Domain Name Registration Transfer and Renewal
How to register your name on the internet
Fast, Simple and Low-Cost automated domain registration from
OthelloNames.net
an ICANN Accredited Domain Registrar... Check our
Domain Prices
How to register your domain name
Registration of your own domain name in 3 easy steps:
Decide on the domain extension you'd like (.co.uk and .com are the most popular).
Check instantly for domain availability

Register the domains using OthelloNames.net simple online order system or call 0871 277 6875
Looking to register/transfer multiple domains ? Try our OthelloNames.net bulk/reseller domain services
If you want customers and prospects to find you on the Internet, you need a memorable Domain Name - your personalised Web Address... Once registered with OthelloNames.net no-one else can use your domain name, its yours exclusively until you chose to sell it or allow it to expire (fail to renew it).
Registering a short and simple domain name is advisable to ensure your clients can easily remember who you are and where you are (online).
Registering the names of your products and usng web forwarding to individual mini-sites increases custome awareness, traffic levels, sales and brand identity - all for as little as £2.98 per year !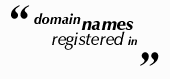 A domain name is a convenient way of finding your way around the Internet. It is part of a system called Domain Name Service (DNS) which provides you with an easy-to-remember word rather than a complex numeric IP address. The DNS actually converts the domain name (e.g. othellonames.net) into an Internet Protocol (IP) number (e.g. 80.76.216.5) and vice versa.
Support - real staff not just some faceless computer system, able to respond to your ticket, email or telephone call 24/7/365
Competitive Pricing - you cannot find a better registration service for a lower price
Range - every generally available domain type and many specialist domain extensions
Official - Othello are accreditted by ICANN (the domain governing body)
The cost depends on the domain name and extension (country code) selected - for a breakdown of our pricing see
Domain Name Pricing
How to get the most from your domain registrar
You should try to learn as much as you can about the firm registering your domain name, ask the following questions (we have included our answers for you):
Do I have to use your hosting or design service ?
No, it's your domain, you use whichever design agency and hosting company you choose
If I want to move my domain, is there a cost for name transfer ?
No, transfers to another ISP/Host are free of all fees
Who will be the registrant (owner) ?
The person / company name as supplied on the order-form, we don't register them in our name and hold you to ransom later
Who will be the administration, billing and technical contacts ?
We are the billing and technical contacts unless you request otherwise.
What is the level of after-sales support ?
Domains come with 24/7/365 online ticket system support, backedup by our email and telephone support services
How much are DNS/Nameserver changes ?
You can change the details of your domain, nameservers etc. using our online Domain Management system in your Client Portal area for free at any time.